About Us
Tod Cemetery offers burial and cremation services, as well as care and compassion for families that choose us as the final resting place for their loved ones.
The Cemetery is owned by the Tod Homestead Cemetery Association, a non-profit organization based in Youngstown, and governed by a board of trustees (see a list here). Below are some frequently asked questions, with answers.
How was the Cemetery established?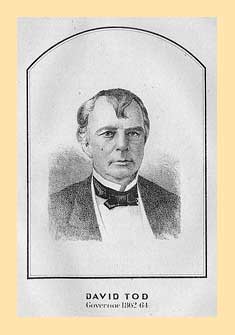 The Tod Homestead Cemetery was established in 1908 under terms of the will of George Tod, son of Ohio's Civil War governor, David Tod. The will set aside 256 acres of the family's "Brier Hill Farm," along with an endowment fund, to establish "a cemetery for the people of Youngstown." The Cemetery's first board of trustees included Volney Rogers, the Youngstown attorney who is considered the father of Mill Creek Park. The Tod family invested further in the Cemetery in the early 1920s, retiring debt incurred with the construction of the Romanesque chapel, administrative building and entrance arch in 1919. In 1976, the striking 40-foot entrance gate was placed on the National Register of Historic Places. The Cemetery's grounds were designed by noted landscape architect Warren H. Manning, who was instrumental in the design of Mill Creek Park.
Does the Cemetery's history affect the way it's used today?
Yes, very much so. Because of the Tod family's support, and careful management for over 100 years, today's Mahoning Valley families can leave their loved ones in a park-like setting high atop Brier Hill overlooking the City of Youngstown. The Cemetery's financial condition and prudent management ensure that the grounds will be maintained in perpetuity.
Can I choose where my family member or friend will be buried?
Yes, we allow and encourage those making burial arrangements to visit our grounds and select a spot. A personal visit is the best way to become familiar with the various areas of the Cemetery.
What pricing options does the Cemetery offer?
Our price list can be found on our Services page.
Can I pre-pay for a burial plot?
Yes, we offer a two-year, interest-free payment plan with a 20 percent down payment. For details, please contact us at (330) 743-3194.
Can I place fresh flowers at a grave?
Yes, absolutely. Certain other decorations are permitted as well. However, we do have some restrictions on decorations that would detract from the Cemetery's appearance or inhibit maintenance. Feel free to request a copy of our Rules and Regulations at the Cemetery office for details. On March 15 of each year, we remove all decorations for a general cleanup. On October 1, we remove all fresh flowers and plants, except mums.
Who are the trustees of the Cemetery association?
The current board of trustees includes these individuals: Trent Cailor, Terrence F. Cloonan (Treasurer), Paul M. Dutton (Secretary), Sallie Tod Dutton (President), Frederica Fiffick, James Glen, Scott Lewis, Judge George J. Limbert, Scott T. Marucci, Lili McMillan, Paul J. Ricciuti, David Tod II (Vice President), Richard P. Owsley, Jr. (Assistant Treasurer)
For a list of board chairs and superintendents throughout our history, visit our Cemetery History page.