Cemetery History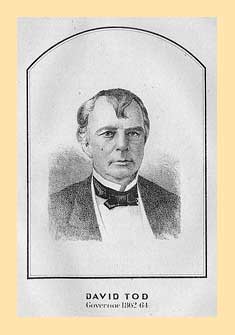 The Tod Homestead Cemetery was established in 1908 under terms of the will of George Tod, son of Ohio's Civil War governor, David Tod. The will set aside 256 acres of the family's "Brier Hill Farm," along with an endowment fund, to establish "a Cemetery for the people of Youngstown." 
In 1909, Tod Homestead Cemetery Association was organized with the election of its first Board of Trustees – which included Volney Rogers, a Youngstown attorney and the "father" of Mill Creek Park. In 1911, Volney Rogers employed Warren Manning, a landscape architect from Boston to develop an architectural land use plan for the Cemetery grounds and initial Cemetery lot plan.
Julius A. Schweinfurth, another Boston architect, was engaged in 1916 to design a Chapel and administrative office building, which was completed in 1919. The architecture has been identified as "Italian Gothic" and utilized both local and Indiana limestone.

A 40-foot entrance arch and 90-foot tower are two of the most striking features of the Chapel and administrative office building. The Chapel can seat up to 150 people for funeral or committal service. The entrance arch, Chapel, and administrative office buildings were placed on the National Register of Historical Buildings in 1976.
Rodef Sholom Cemetery was moved to Tod Homestead Cemetery in 1912. The Youngstown Township Cemetery, "a potter's field," was added to the Cemetery in 1914.
In the early 1920s, given the expense of construction and land development, the Cemetery was broke. John Tod, nephew of George Tod, agreed to assume responsibility for repaying the Cemetery's $400,000 debt. Mr. Tod reorganized the Cemetery and named a new Board of Trustees. The new Board employed Fred I. Sloan as Superintendent who served until 1958. Many improvements were made under the direction of Mr. Sloan, who died in 1963 and is buried in Hawthorne Section I of the Tod Homestead Cemetery.
The Mausoleum at Tod Homestead Cemetery was constructed in 1926 by a group of private investors. Ownership of the Mausoleum was transferred to the Cemetery in 1971.
In 2004, Tod Homestead Cemetery Association engaged Paul J. Ricciuti, FAIA, of Ricciuti, Balog & Partners to renovate and restore the interior space of the Chapel, administrative office building, and Tod Mausoleum to their original design.
Superintendents of The Tod Homestead Cemetery:
W.A. Forsythe (1909 to 1922)
Fred I. Sloan (1922 to 1958)
Frank T. Sikora (1958 to 1987)
Kenneth E. Sommers (1987 to 2017)
Douglas J. Helmick, Field Superintendent (2017-Present)
Donna J. Brill, Administrative Superintendent (2017-Present)
Presidents of The Tod Homestead Cemetery Association:
E. L. Ford (1909 to 1922)
Frank L. Oesch (1922 to 1932)
E. E. Swartswelter (1932 to 1937)
Fred R. Moody (1937 to 1939)
J. C. Barrett (1939 to 1952)
John H. Hall (1952 to 1981)
Fred Tod, Jr. (1981 to 1999)
David Tod (1999 to 2002)
Judge George J. Limbert (2002 to 2005)
Sallie Tod Dutton (2005 to Present)